Sagging Floor Repair Company Serving San Jose, San Francisco, Fresno & Nearby
Permanent solutions for reinforcing joists & girders, and preventing rot damage
Symptoms of Sagging Floor Joists and Girders in a Crawl Space:
Problems related to inadequate floor joist bracing can show up all over the house, including the following:
Sinking/Uneven Floors
Springy Floors Underfoot
Cracks Forming On Interior Drywall
Jamming/Sticking Interior Doors
Moldy Floors
Sinking Crawl Space Supports
If your home has sagging floor joists and girders, you're dealing with a problem that manifests itself throughout the entire building.
A problem such as this can be caused by many possible factors, but are usually the result of three common issues:
Inadequate Supports: The support system under your home has too few support posts to hold up the structure.
Weakened Floor Joists & Girders: Moisture, rot, termites, wood-boring insects, or other destructive forces have damaged your structural wood.
Support Settlement: Weak supporting soils underneath the crawl space supports have caused the crawl space supports to sink into the ground.
What's Damaging Your Floor Joists & Girders?
If Mother Nature is the cause of your damage, there can be many possible forces hard at work on your crawl space's structural wood. Determining which one you're dealing with can be difficult to do!
Sometimes, a wood surface can be virtually covered in mold, but will still show little evident structural damage. In other cases, the wood may appear to be strong and untouched, while subterranean termites have hollowed the wood out from the inside.
Before you can consider a permanent repair for your crawl space, you will need to address the moisture and humidity that feeds mold, rot, pests, and other unwanted forces in your crawl space. The key to this is to keep your crawl space dry by installing a crawl space vapor barrier system and by running a powerful crawl space dehumidifier system.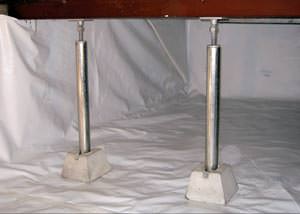 Crawl Space Floor Joist Jacks
Crawl space joist supports are steel, adjustable support posts that are installed to repair sagging floors.
These reinforcing joists install quickly in crawl spaces -- with a complete installation taking about a day -- and provide a permanent solution.
Our SmartJack® Support System is designed with corrosion-resistant galvanized steel, ensuring that it will be strong and adjustable for decades to come. A unique base of engineered fill prevents sinking support posts when soils below are weak, maximizing effectiveness.
More about our Crawl Space Jacks
Reinforcing Joists & Girders
Compared to other sources of structural damage (frost heave, foundation settlement, bowing foundation walls, etc.) it's relatively easy and inexpensive to reinforce joists and girders in a structurally damaged crawl space.
Girder and joist jacks (also known as "steel lally columns") can be installed at key locations along the structure. Once in place, the floor can be "jacked up" in an attempt to lift the floor back to a level position. If a contractor finds a joist is severely damaged, a sister beam can be installed alongside the normal one for extra strength.
At Foundation Repair of CA, we've seen just about everything! Below are just a few of the sagging floor joists the experts in our network have encountered:
(Click to see larger view.)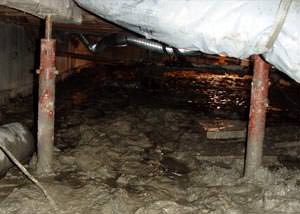 Light-duty joist braces, such as are found in big box stores throughout California, should not be as permanent supports.
These joist braces are made out of steel that can rust and corrode, making them difficult or impossible to readjust if the support post sinks down into the soil.
The "Bulb Of Influence"
No matter how strong your floor joist supports are, they can only bear as much weight as the soils underneath them. Put simply, if the supports are sinking, your floor is going to sink with them.
To address this, our contractors take advantage of something called the "bulb of influence".
Before we install your support posts, we excavate a 2' cube hole, filling it in with compressed, crushed stone. Then we place a concrete base on top of the center of this cube and position the jack post above that.
This cube of compressed, crushed stone disperses the weight pressing down into the soil outwards, dispersing it to approximately 10% of the pressure present at the bearing surface.
This means that even if the soils under the jack posts aren't strong enough to support great weights, your system will still be more than sufficient to support the structure above.
How Do Other Floor Joist Support Methods Measure Up?
There are many different methods of crawl space repair that contractors are using today, and some are much better than others, but all of them work at least some of the time.
Of course, if these repair methods never worked, then they would not be used anymore. However, at Foundation Repair of CA, our reputation and written warranty depend on using solutions that will be permanent -- and will work all of the time. The chart below lays out the facts:
Girder & Floor Joist Support Solutions
We Repair Sagging Floor Joists & Girders In Crawl Spaces!
At Foundation Repair of CA, our experts have the experience, training, and warrantied products that you're looking for! With a fast, noninvasive installation, we can provide a lasting solution for your home that will restore your structure and avoid further, potentially expensive, damage.
It costs you nothing to meet with one of our specialists for a professional inspection and written cost quote! To schedule a crawl space repair quote, contact us by phone or e-mail today!
We proudly serve the California area, including San Jose, San Francisco, Fresno, Oakland, Salinas, Stockton, Bakersfield, Fremont, Roseville, Modesto, and many surrounding areas.