Crawl Space Vapor Barrier Company Serving the San Francisco Bay Area
Everything you need for a dry crawl space in California
Typical crawl spaces are moldy, foul-smelling spaces that homeowners avoid at all costs. Many of them flood, and they're often filled with debris left over from when the house was constructed.
In more extreme cases, they can be rotting structures with rodents, animals, and other pests living within.
At Foundation Repair of CA, it's our job to make sure that your musty crawlspace is transformed into a cleaner, drier, healthier, and more energy-efficient space.
Benefits of our vapor barrier system:
Fast, Clean Installation
Patented, Warrantied Products
Save Money On Utility Bills
Gain Storage Space
Before and After Installing Crawl Space Vapor Barrier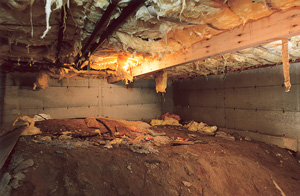 Excess moisture in a vented, dirt-floored crawl space can damage insulation while also causing mold problems.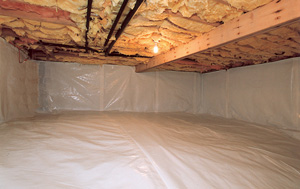 Heavy-duty moisture barriers used in the encapsulation process transform the crawl space into a dry, clean, energy-efficient part of the house.
Steps to Installing A Crawl Space Vapor Barrier
Remove Any Standing Water Sources: Eliminate any sources of flooding in your crawl space by installing a crawl space drain and sump pump system. This eliminates flooding water from your crawl space, but moisture can still enter directly through the concrete and floor in the form of water vapor.
Repair The Structure: If your crawl space is sagging or damaged by prolonged mold and rot, the next step is to install crawl space support jacks to help restore your structure. This will help your floors stay even and stop any structural sagging upstairs.
Encapsulate & Insulate The Crawl Space: To stop moisture from passing through your floors and porous concrete walls, a crawl space liner should be installed. A durable liner will allow for servicemen to use the space without damage while transforming your crawl space into usable storage space. This is also the best time to install crawl space insulation on your walls or floors.
Install A Dehumidifier: Installing an energy efficient, self-draining crawl space dehumidifier will keep your space dry. Our crawl space dehumidifier system includes a filter that removes particles from the air as small as 2 microns. This ensures that your crawl space is protected from mold, dust mites, and mildew damage -- permanently!
Our crews of crawl space contractors are professionally certified at the Basement Systems® International Headquarters in Seymour, CT.
For a free, no-obligation crawl space repair quote in Pleasanton, Palo Alto, and the surrounding areas in California, contact us by phone or e-mail today!