Proven Concrete Lifting & Leveling Company Serving San Jose, Sacramento, San Francisco & Nearby
Quickly & effectively stabilize your sinking & settling concrete with our concrete lifting & leveling polymer called PolyLevel®
See for yourself why PolyLevel® is a smart alternative concrete repair solution.
Does your driveway, sidewalk, walkway, concrete steps or patio have problem areas where sunken concrete has caused uneven surfaces and tripping hazards to form? It's a very noticeable problem that has a very simple solution.
Conditions where outdoor concrete has already begun to sink are not uncommon in California and are often the result of shifting or a weak soil base or erosion. If you have noticed sinking concrete near your home in San Francisco, San Jose, Sacramento or nearby, call us today for a free estimate!
PolyLevel Install Porch Timelapse
Telltale signs of sunken concrete
Sinking concrete steps or sidewalks
Cracked, bumpy and uneven driveways or patios
Cracking and sinking sections of slabs
Washout of soils under concrete slabs
Repeated cracking of concrete slabs
PolyLevel at Work in the Local Area
Before

After

This homeowner in Tiburon had a driveway/parking area that sank six inches due to the shifting soil beneath it. This movement caused the flow of water to be disrupted and multiple puddles would remain long after it rained.

After contacting Foundation Repair of California, one of our crews used a PolyLevel injection to lift the slab six inches and back to its original position. The PolyLevel process uses a 2-part polyurethane foam to quickly and efficiently raise the concrete slabs that are used in patios, sidewalks, driveways and much more.

This homeowner is now happy with their driveway that not only looks great again, but correctly directs any water to their drainage system! Contact us today to schedule your free estimate.

Before

After

This patio was a concrete slab it had a crack that practically cut it in half. One half of the slab was sinking too. So the homeowner contacted us, Foundation Repair of CA. Our solution was PolyLevel System, this high density foam could lift the lower half to meet the stable half of the slab.

Before

After

The concrete slabs of this backyard patio had sunken and lifted from eachother resulting in an uneven. Our crew was able to lift the sunken portions making for a smoother backyard space.

Before

After

A curved slab needed lifting in Meadow Vista, CA. Our crew was able to lift it to meet the slabs next to it eliminating the tripping hazard.

Before

After

This patio in El Dorado Hills, CA had sunken several inches due to the settling soils beneath it. After receiving a free estimate from Foundation Repair of CA, the homeowner decided to use our PolyLevel injection system to help relevel it.

Our crew used PolyLevel to quickly and efficiently raise this slab back to it's original position and the homeowner couldn't be happier! If you have a similar issue at your home or business, contact us today for a free estimate.
PolyLevel Install Pool Timelapse
Sinking sidewalks, driveways, and concrete floors aren't just eyesores - they can quickly turn into safety hazards! Sinking concrete can be especially troublesome if you are:
Concerned about the liability of visitors tripping on your property
Preparing your home for sale
Or simply want to enjoy your home with your family and friends
Concrete repair can be simple and affordable - Find out how!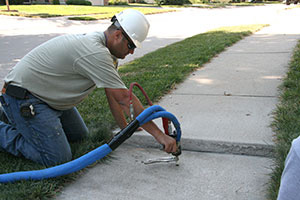 PolyLevel® is a fast & efficient method to raise sinking concrete. This simple foam injection can stabilize your concrete slab for years to come!
Foundation Repair of CA can fix your sinking outdoor concrete problems so you can enjoy your driveway, sidewalk or patio again without worry.
In the past, contractors relied upon mudjacking (also known as slab jacking, concrete lifting, concrete raising, grout pumping and slab leveling) to level concrete that had settled over time. This entailed pumping concrete slurry under the settled slab to raise it and hoping that the settlement wouldn't continue.
At Foundation Repair of CA we use PolyLevel® to lift concrete slabs to a level position with less weight and disruption than the legacy mud jacking or slab jacking process.
See for yourself how PolyLevel® works, and check out our before and after photo gallery of PolyLevel® concrete repair.
We would be happy to provide you a free evaluation and estimate for concrete repair and leveling in Salinas, Oakland, Stockton, Modesto, Fremont, Santa Rosa, Hayward and the surrounding areas.